BIO-MED 3 center
In 2007, we signed a protocol in agreement with the Humanitarian Central Medico Pharmaceutical (CHMP) in Clermont-Ferrand and the Pharmacies & Humanitarian Help (PAH) of Caen, with the objective of executing a program of pharmaceutical support and strengthening the technical capacities of post offices and health centers of the community of Ouonck, in the medical region of Ziguinchor, in Casamance (Senegal).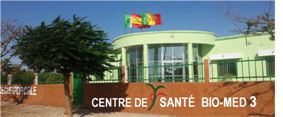 In march 2012 the BIO-MED 3 Center will open its doors. This is one of the most important projects for improving the health of the Senegalese population.
The construction of this health center, on an area covering one hectare, is the result of the foundation's request to the Senegalese authorities to create a sanitary building for prevention and rapid intervention within the NGUEKHOKH-NGUERIGNE-NGAPAROU-LA SOMONE- SALY area.
The experience gained by the Foundation in its health center, confirmed by more than 20000 cases of intervention in 5 years, shows the extreme importance of primary healthcare, taking into account that socio-environmental conditions facilitate the complication of simple pathologies.
The BIO-MED 3 center aims to communicate the importance of prevention of frequent diseases (hypertension, infections, the upper respiratory tract, malaria, tuberculosis, etc) allowing quick, effective intervention.